Commercial Lawn Maintenance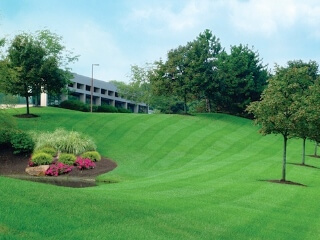 A beautifully designed landscape for the exterior of your commercial building, coupled with regular attention and maintenance can add substantially to the value of your property, not to mention the pride and enjoyment it will bring.
Wheeler Maintenance is the most experienced landscaping and lawn maintenance company in all of Georgia. With many satisfied commercial clients vouching for us, we can help create and maintain the landscaping surrounding your commercial property.
The landscaping surrounding our clients' commercial properties reflects our commitment to go above and beyond in creating and maintaining a work environment of pristine elegance. Wheeler Maintenance provides every single client with superior service with a commitment to excellence.
We have experience in a wide range of landscaping and lawn maintenance services. Believing that every property is unique we provide all clients with a plan specific to their particular landscaping and lawn care needs.
Wheeler Maintenance seeks to be the premier landscaping company in all of Georgia, so whether you have a small office building or a sprawling commercial business park, we are at your service. We can be there every day of the week maintaining different areas of your property, or just come once a week to maintain your lawn and walkways on a smaller property. Call us today for your free lawn and landscape consultation and estimate!